Administrator
Staff member
I've upgraded to support F4A!
100 Things to do in Kenya
If you want an adventure packed experience, then you have every reason to visit Kenya. With an unmatched wealth of game and over forty different cultures, Kenya will spoil you with an array of choices. Talk of enjoying sunny weather throughout the year while exploring the country's natural beauty, having a chance to run along some of the world's greatest athletes and interacting with the friendly locals, among many other things. Coupled with the fact that it is one of the most affordable tourist destinations and you have the perfect destination.
1. Maasai Mara safari (Narok)
With its scenic beauty, aura and variety of game, the Maasai Mara will give you an authentic African safari. No words or pictures can fully convey the atmosphere in this reserve. Having housed over 90 species of animals and over 400 bird species, Maasai Mara is one of the greatest wildlife destinations in the world. Maasai Mara's cats are so spectacular that they star in BBC'S Big Cat Series. You can go alone or join
3 day group safari.
2. Climb Mount Kenya (Nyeri)
For those who love the thrill that comes from climbing on rock, ice and snow, this should be on your bucket list. Mt Kenya is Africa's second highest mountain and has been named the most challenging climb. It is where the world's best climbers test their skills. The average climber will likely reach point Lenana in 48 hours and descend in 36 hours. If you are aiming higher, you had better bring your A game. Join
5 day expedition
for the real Mt Kenya experience.
3. Whitewater rafting on River Tana (Sagana)
This is the most relaxing activity after a challenging hiking and mountain climbing experience. The Tana River is close to Mt. Kenya and has the most exciting rapids in the country. The drift will also give you a glimpse of some spectacular bird species. Be ready for 4 hours of adventure and loads of fun in the murky waters.
4. Hiking at Hell's Gate National Park (Naivasha)
The name might sound scary but the experience is quite the opposite. Hell's Gate is one of the few parks in which you can walk alongside zebras, gazelles and elands among other animals. A hike in the park takes 4-6 hours. The scenery is decorated with rugged landscape, gorges, and hot water streams. The scenery is so spectacular that it inspired several Hollywood movies. Camping areas are available where you can pitch a tent or park your RV.
5. Feeding giraffes (Nairobi)
The Giraffe Centre located in Nairobi combines the serious protection of the endangered Rothschild's giraffe with fascinating activities. Visitors are allowed to interact with the giraffes through observation, hand feeding and even kissing. You can also catch a glimpse of warthogs and birds.
6. Eat in a cave (Mombasa)
Crazy as it sounds, having dinner in a cave is an unforgettable experience. Ali Barbour's Cave Restaurant along Diani beach is a place that leaves a mark in everyone's memory. The restaurant mainly serves seafood and steak but vegetarian dishes can be made at the customer's request. The main part of the cave is open, literally making it dinner under the stars. Add a bottle of fine wine and a loved one and you have everyone's dream evening.
7. Wildebeest migration (Narok)
You have probably seen lions, elephants and cheetahs in your local zoo. You have probably seen a wildebeest too. But I doubt you have seen over a million of them in a rush to close a river while numerous crocodiles prey on them. Occurring between July and October, this event between the Maasai Mara in Kenya and Serengeti National Park in Tanzania is so spectacular that it was named the seventh wonder of the world as well as the "world cup of wildlife."
8. Big five snake safari (Watamu)
The Bio-Ken Snake Farm organizes snake safaris for the strong-willed reptile lovers to interact with the snakes on riverbanks, trees and rocky cliffs. A group of experts leads the safari which can take up to five nights. You get a chance to catch pythons, cobras, puff adders and other members of the big five.
9. Flamingo watching (Nakuru)
I cannot think of anything that is better than watching a lake being turned into a mass of moving pink. Hundreds of thousands of spectacular birds flock the salt water lakes in the Kenyan Rift Valley every year creating an unmatchable spectacle. Lake Nakuru is turned into candy-land as flamingos and hundreds of other bird species blanket its surface. The best time to catch this immense beauty is between April and June.
10. Ride an ostrich (Nairobi)
The Maasai Ostrich Farm Resort in Nairobi brings you as close to an ostrich as possible. None of your friends will believe you when you tell them that you spent 30 minutes riding on the back of an ostrich. As if that is not good enough, you get to eat one. You can relax in a thatched makuti or by the pool and enjoy a delicacy of ostrich meat.
11. Relax on the Kenyan coast (Mombasa)
While going on safari is exciting and adventurous, the Kenyan coast has been known to put a smile on a visitors face. With its sun-bleached sandy beaches and its warm inviting waters, the Kenyan stretch of the Indian Ocean will take your breath away. Lay in the shade of the coconut palms sipping a drink as you squint through the rays of the afternoon sun to watch local fishermen in their traditionally made dhows.
12. Diving (Mombasa)
If you thought the Kenyan game parks were rich, you are yet to see the ones hidden in the depths of the Indian Ocean. Experience the adrenaline rush of coming face to face with a shark and other big water creatures, the excitement of being in the warm waters surrounded by colorful fish and the beauty of the coral reef. Join
peponi divers
who happen to have over 25 diving sites!
13. Kitesurfing (Mombasa)
Combine the art of flying a kite and boarding, and you have the ultimate sport for thrill lovers. No words can describe the excitement that comes from being propelled by the trade winds as you try to control the kite above you while both hoping and fearing to become airborne. Classes for beginners take an average of 3 hours.
14. Jet skiing (Diani)
For those who prefer their fun at high speed, Diani Beach is the perfect place to experience a new exhilarating world. Get a different view of the beach from the open sea. How about meeting dozens of dolphins and giant turtles along the way? A Jet Ski safari takes 1 hour on a normal day.
15. Kayaking (Sagana)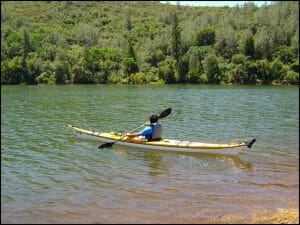 If you have not tried your hand at this exciting sport then you have not been living. Which other place would be better for relaxed paddling than the calm waters of River Sagana, ranked the best kayaking spot in Africa? Savage Wilderness offers flexible sessions depending on your schedule.
16. Deep sea fishing (Mombasa)
There is immense excitement and feeling of accomplishment that comes from reeling a giant fish, both for beginners and seasoned pros. Marlin and the acrobatic sailfish are the most common in the deep waters of Mombasa, and you can be sure that the experience is nothing short of spectacular. A fishing trip takes 4-8 hours. Some of the world's fishing records have been set and broken in these same waters. Join
a 4, 6 or 8 hour fishing session.
17. Bungee jumping (Sagana)
This is not for the faint hearted or the nervous souls, it is for the real adrenaline junkies. Throw yourself from a 60-meter tower into the brown Sagana River and experience a thrill you have never felt before. One thing for sure, your screams of fear and excitement will be heard from a mile away.
18. Rock climbing (Voi)
There are a lot of rock climbing venues in Kenya but none can beat the alluring rocks in Tsavo National Park. Climb a 300-meter rock as elephants roam below you and falcons and eagles circle above you. It is said to be among the most challenging rock climbing events, but the view from the top is very much worth the effort.
19. Paragliding (Eldoret)
Paragliding in Kerio Valley is an opportunity to defy gravity and turn into an eagle for an hour or two. Fly in the simplest and most beautiful way as you look at the landscape from a bird's view. To get the most bang for your back, time your trip between January and April since that is when the winds are strongest.
20. Skydiving (Diani)
I cannot think of anything that is more thrilling than being dropped from 10000 feet above the beach. Diani is the only place where the weather is perfect for skydiving almost throughout the year, and every fall is a beach fall. As you fall towards the fantastic view below you, you will feel your heart beating faster and the adrenaline rush through your body. Don't let this distract you from smiling for the camera!
More:
https://www.your-rv-lifestyle.com/things-to-do-in-kenya.html
#kenyatravel