Airport welcomes UK Civil Aviation Authority to Glasgow​
The UK Civil Aviation Authority visited Glasgow to understand what the airport is doing to maintain high levels of safety, improve the passenger experience and create a more sustainable future.
The visit forms part of the UK Civil Aviation Authority's engagement with industry across the United Kingdom to understand the range of perspectives from the multiple areas it regulates and help inform decision-making for the benefit of consumers and the public.
During a two-day visit, the regulator's Chair Sir Stephen Hillier, Joint-Interim Chief Executives Paul Smith and Rob Bishton, along with Board members, were taken on a comprehensive tour of Glasgow Airport and met with other areas of the wider aviation industry including Loganair, Bristow Helicopters and Skyrora.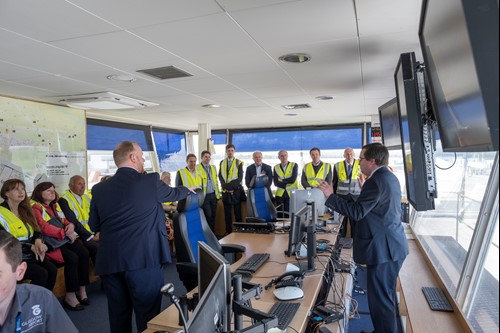 At Glasgow, the UK Civil Aviation Authority received an update on the airport's progress on sustainability, innovation and the investment being made to improve the passenger experience. Glasgow's industry-leading special assistance service was a specific focus and the CAA Board was keen to see why Glasgow is regularly ranked 'very good' on the service they offer passengers with reduced mobility.
They also meet representatives from Connected Places Catapult, which is assisting Glasgow Airport, to create the UK's first Connected Airport Living Lab. Sir Stephen, Paul Smith and Rob Bishton will see how the Living Lab is working to decarbonise ground and air operations.
Sir Stephen Hillier, Chair of the UK Civil Aviation Authority said: "The UK's aviation and airspace sectors are moving to a more sustainable future, with Scotland playing its part to reduce carbon emissions with the use of new innovations and technology, ultimately to help improve the passenger experience.
"It is a truly exciting time, especially in the UK space sector here in Scotland, but it is our role to support the aviation and aerospace sector to be safe, sustainable and successful.
"We're engaging with the sector we regulate throughout the whole of the UK to hear first-hand how we can help it to continue to thrive safely in the future for the benefit of consumers."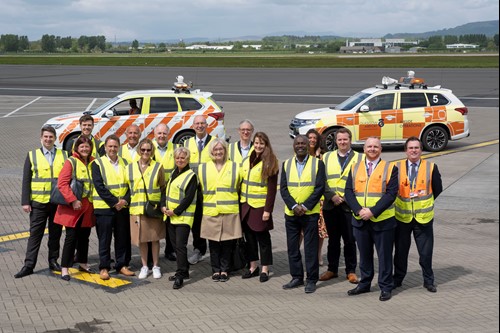 Ronald Leitch, Operations Director for Glasgow Airport, said: "We were delighted to welcome the UK Civil Aviation Authority's Board and senior leadership team to the airport this week.
"The visit provided the opportunity for the Glasgow team to showcase a number of current innovation projects and demonstrate the progress being made through our sustainability strategy to decarbonise the airport's our infrastructure and operations.
"The Board was also given an overview of the airport's highly regarded special assistance service, which received the highest 'Very Good' rating in the most recent CAA audit."