Honorary Member Of Forums4airports
Jan 14, 2009
16,722
343
IMPORTANT!! To reduce spam, we request that you make a post soon after completing your registration. We request you keep your account active by posting regularly. Inactive accounts risk being deleted.

Yes
In the inaugural Rainbow Cup that involves teams from Wales, Ireland, Scotland, Italy and South Africa some experimental laws will be trialled - see linked BBC report below for details of them.
Perhaps the most controversial is the intention to replace a player sent from the field by the referee (red card) with a substitute. There will have to be an interval of 20 minutes though between the departing red-carded player and the appearance of the substitute.
I presume a yellow card will still mean a ten minute banishment from the field which in effect means a red card is a 20-minute banishment in the sense that the team will be a player light for that period but no longer.
It would seem that if a team has more than one red-carded player a substitute can replace each one. What happens if a team has already used all its replacements in the normal course of the match doesn't seem clear.
I have serious doubts about the morality of this. It's almost an encouragement to indulge in foul play if a situation is desperate in an important match, knowing the the team itself won't be a player short for the entirety of the remainder of the game, unless there are 20 minutes or less to play. In football the comment that a player given a yellow card 'took one for the team' when deliberately indulging in unfair play is regularly espoused by commentators. I detest that. It makes a cheat's actions seem noble.
Many years ago sending a player off in rugby union was very rare and a referee was reluctant to do it knowing the opprobrium that would be silently brought down on his head by the rugby establishment. I once read a book about the game of rugby union where the situation was put like this: a chap is a bit of a bounder to indulge in unfair play but a referee is a bigger bounder if he sends a chap off for doing so.
According to the BBC report these experimental laws including the watering down of red cards has been tried in some domestic competitions New Zealand Australia .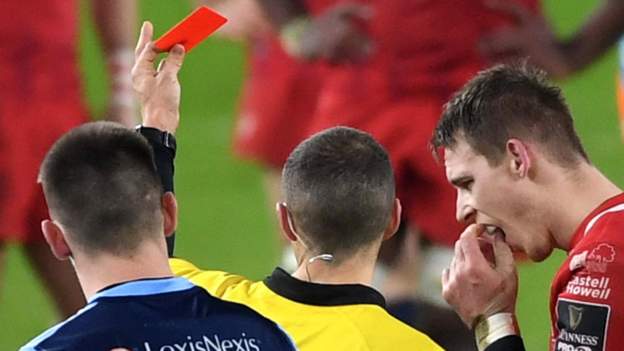 Teams in the inaugural Rainbow Cup will be able to replace dismissed players under trial laws being brought in for the tournament.
www.bbc.co.uk