Birmingham Airport (IATA: BHX, ICAO: EGBB) lies approx 10 miles southeast of the city centre in the Metropolitan Borough of Solihull. The airport is owned by the Seven Metropolitan Boroughs of West Midlands (49%), Ontario Teachers Pension Plan (48.25%) with the remaining 2.75% as employee shares.
In 2017 Birmingham Airport saw 12,983,436 passengers making it the busiest year in the airports history and an 11.5% rise on the previous year.
http://www.birminghamairport.co.uk/
A recent picture showing the now extended full length runway, taken 8th November 2014 by the Police Air Support Unit. The new Monarch Aircraft Engineering hangars can be seen to the right of the picture.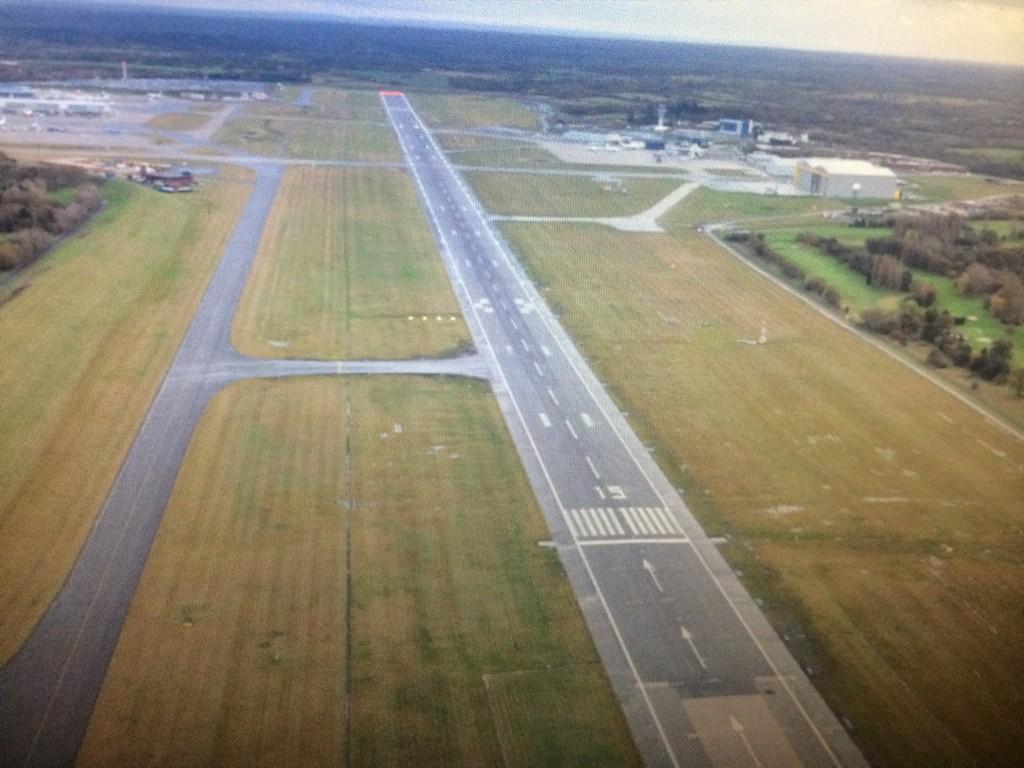 Picture courtesy of NPAS Birmingham Twitter. https://twitter.com/NPASBirmingham
Birmingham now has one runway with 06/24 being decommissioned in 2008, it now forms parts of taxiways Tango and Lima. RWY 33/15 was recently extended to a distance of 3,052m (10,013ft) and is 45m wide with 7.5m paved shoulders either side giving a total width of 60m.
Czech Airlines A319 arriving from Prague
.
Airlines and Destinations.

Aer Lingus - Airbus A320, A321
Dublin
Aer Lingus Regional - ATR72
Cork
Dublin
Shannon
Air France - Airbus A318, A319, A320, A321
Paris - Charles-de-Gaulle
Air India - Boeing 787 Dreamliner
Delhi
Amritsar
Air Malta - Airbus A319, A320
Malta
Austrian Airlines - Airbus A320, A321, E195
Vienna
Innsbruck
BH Air - Airbus A320, A321
Burgas
Blue Air - Boeing 737-400, 737-800
Bucharest
Larnaca
Brussels Airlines - SU9, A319
Brussels
Czech Airlines - A319, Smartwings 737-800, 737-900
Prague
Easyjet - Airbus A319, A320
Belfast - International
Edinburgh
Geneva
Glasgow
Enter Air B737-800
Banjul
Sharm El Sheikh
Hurghada
Emirates - Airbus A380
Dubai International
Eurowings - Q400, Airbus A319, A320
Dusseldorf
Flybe - Q400, Embraer E175, E195
Amsterdam
Aberdeen
Belfast City
Berlin - Tegel
Bordeaux
Dusseldorf
Edinburgh
Glasgow
Guernsey
Inverness
Isle of Man
Jersey
Lyon
Milan - Malpensa
Paris CDG
Stuttgart
Avignon
Bergerac
Brest
Chambéry
Nantes
Geneva
Innsbruck
Kittilä
La Rochelle
Newquay
Knock
Salzburg
Kefalonia
Preveza
Turin
Freebird Airlines - Airbus A320, A321
Antalya
Bodrum
Dalaman
Iberia Express - Airbus A320
Madrid-Barajas
Jet2 - Boeing 737-800, A321
Alicante
Almeria
Antalya
Barcelona
Bergerac
Bodrum
Budapest
Corfu
Dalaman
Dubrovnik
Faro
Fuerteventura
Funchal
Geneva
Girona
Gran Canaria
Grenoble
Heraklion
Ibiza
Innsbruck
Kefalonia
Krakow
Kos
Lanzarote
Larnaca
Malaga
Malta
Menorca
Murcia
Naples
Nice
Palma de Mallorca
Paphos
Pisa
Prague
Preveza
Pula
Reus
Rome
Rhodes
Salzburg
Santorini
Split
Skiathos
Thessaloniki
Tenerife - South
Turin
Venice
Verona
Zakynthos
KLM - Boeing 737-700, 737-800, 737-900, E190
Amsterdam
Lauda - Airbus A320
Vienna
Lufthansa - Airbus A319, A320, A321
Frankfurt
Munich
Pakistan International Airlines - Boeing 777-200, 777-300ER
Islamabad
Qatar Airways - Boeing 787 Dreamliner
Doha
Ryanair - Boeing 737-800
Alicante
Barcelona
Bydgoszcz
Corfu
Chania
Dublin
Faro
Girona
Gdańsk
Gran Canaria
Katowice
Kraków
Lanzarote
Madrid
Málaga
Malta
Tenerife-South
Ibiza
Murcia
Palma de Mallorca
Perpignan
Porto
Reus
Sofia
Verona
Warsaw - Modlin
Scandinavian Airlines - Airbus A319, A320, A321, CRJ-900
Copenhagen
Swiss International Airlines - CS100, CS300, Airbus A319, A320, A321, Helvetic F100, E190
Zurich
TUi Airways - Boeing 737-800, 757, 787-8, 787-9 Dreamliner
Bangkok
Langkawi
Barbados
Cancún
Montego Bay-Sangster
Orlando-Sanford
Punta Cana
Almeria
Agadir
Alghero
Alicante
Antalya
Boa Vista
Enfidha
Fuerteventura
Gran Canaria
Lanzarote
Hurghada
Málaga
Marrakech
Palma de Mallorca
Paphos
Podgorica
Sal
Sharm el Sheikh
Tenerife-South
Bodrum
Bourgas
Catania
Chambéry
Chania
Corfu
Dalaman
Dubrovnik
Enontekiö
Faro
Geneva
Genoa
Gerona
Heraklion
Ibiza
Innsbruck
Izmir
Kavala
Kefalonia
Kos
Kuusamo
Larnaca
Malta
Menorca
Naples
Porto Santo
Pula
Reus
Rhodes
Rovaniemi
Salzburg
Santorini
Skiathos
Split
Sofia
Thessaloniki
Venice
Verona
Zakynthos
Titan Airways - Boeing 757, Airbus A320
Chambery
Turkish Airlines - Boeing 737-800, 737-900ER, 737 MAX8, 737 MAX9, Airbus A321
Istanbul - Ataturk
Turkmenistan Airlines - Boeing 737-800, 757, 777-200LR
Ashgabat
Vueling - Airbus A320
Barcelona
Wizz Air - Airbus A320, A321
Budapest
Bucharest
Cluj - Napoca
Krakow
Poznan
Warsaw - Chopin
Wroclaw
Air India B787 Dreamliner recently arrived from Delhi.
Hotel Accomodation
On site:
Holiday Inn
Novotel
Ibis
Ibis Budget
Travelodge
Hilton Garden Inn
In the immediate vicinity shared with the NEC:
Moxy Hotel
Ibis Styles
Hilton Metropole
Crowne Plaza
Holiday Inn Express
Premier Inn
Genting Hotel
Tristar Hotel
Arden Hotel
There are also numerous guest houses in the area.
Vueling A320 arriving from Barcelona.
Shopping
Landside: Spar, Marks & Spencer, Boots, WHSmith, The Luggage Point.
Airside: Boots, Accessorize, World Duty Free, Dixons, Cloud Nails, Best of the Best, Discover England, Pandora, Eye Love, The Fashion Place, WHSmith, JD Sports, Hugo Boss, Victoria's Secret, Next, Superdry and The Watch Collection.
Food and Drink
Landside: Costa Coffee, Cafe Nero, Frankie & Bennies, The Deli Hub, All Bar One, Burger King, Cafe Ritazza.
Airside: Wetherspoons, Pret a Manger, Costa Coffee, Burger King, The Meriden Bar, Giraffe, Blanc et Noir Champagne Bar, All Bar One.
Qatar Airways 787 Dreamliner arriving from Doha.
History
Elmdon Airport as it was known then was opened by the Duchess of Kent on 8th July 1939 with the first flights going to Croydon, Glasgow, Liverpool, Ryde, Shoreham, Manchester and Southampton. During World War II the airport was requisitioned by the Air Ministry with the city not getting full responsibility back until 1 April 1960. The 2nd April 1966 saw the first jet flight to Palma on a BAC-111.
On 30th May 1984 Queen Elizabeth II opened the current building that is now Terminal 1, this included a
Maglev
rapid transit link between the airport and the railway station and NEC.
On 22nd July 1991 a second terminal (at the time called Eurohub) opened with Concorde making an appearance. This terminal was designed as a "hub and spoke" facility for British Airways offering connections on flights throughout the UK, Europe and their long haul flights to New York JFK, Toronto - Pearson and Chicago (operated by American Airlines).
In 2000 a terminal redevelopment opened with the 'Millenium Link' joining the two terminals for the first time, there was also a new customs and immigration hall, twelve new shops, a new baggage reclaim area, a new arrivals concourse, a new pier with three air bridges, and sixteen new check-in desks in Terminal 1.
In 2009 a new 240 x 24m pier opened providing seven wide body stand or 13 narrow body stands capable of handling the new generation of aircraft such as the A380, A350 and B787. In conjunction with the opening and the airports 70th anniversary the airport welcomed the UK's first commercial A380 flight outside of Heathrow with Emirates upgrading EK39/40 from the usual 777-300. The pier also houses the Emirates Business Class Lounge.
Emirates A380 departing back to Dubai.
In recent years the top floor of the Millenium Link has been transformed to hold a centralised security area effectively creating 'one terminal'. A new control tower opened on the western side of the airfield and the A45 has been diverted to allow for a runway extension.
On 22nd July 2013 the runway extension was officially opened with a China Southern A330 the first aircraft to make full use as it departed back to Beijing.
China Southern A330 being welcomed from Beijing.
The Future
A second shorter runway to the south west of the current site has been proposed, unsurprisingly this met with vehement opposition from local residents, particularly those in Catherine-De-Barnes where a significant portion of the village would have been lost. Although never officially dropped this idea seems to have changed to a new runway to the south east of the site with a new terminal built alongside the new High Speed Two station. This remains only a vision with the Towards 2030 master plan focusing on the current site where possibilities include a new satellite pier where the remote 70's and 80's stands currently are, an extension or rebuild of T2 and a new T3 and apron expanding south onto what is now a long stay car park. A new master plan is due some time in 2016.
Cargo

Aviavilsa
Vilnius, Minsk, Plovdiv, Saarbrucken
FedEx
Manchester, Paris CDG
Top 20 International routes 2018
Dublin 923,313
Dubai 710,517
Amsterdam 703,047
Paris - CDG 412,080
Palma 383,348
Malaga 367,867
Alicante 357,780
Tenerife 333,730
Frankfurt 321,985
Dusseldorf 270446
Faro 253,213
Lanzarote 246,657
Barcelona 218,425
Munich 209,484
Las Palmas 176,874
Fuerteventura 149,776
Istanbul 145,539
Ibiza 141,764
Brussels 141,497
Antalya 136,284
Maintenance
In November 2013
Monarch Aircraft Engineering
opened a two bay, state of the art maintenance facility located on the western side of the airfield. Visitor highlights have included several Fly Dubai 737's, RAF A330's and Norwegian 787 Dreamliners.
MAEL's Birmingham facility can accommodate almost every aircraft type in its two bays. It incorporates industry-leading design and build standards and is one of the first to have the capacity for Boeing 787 Dreamliner maintenance, with sufficient capacity for other wide body aircraft, such as the Boeing 777, 747 and Airbus A350.

It is large enough to accommodate two Boeing 777-300ER aircraft or 10 narrow-body aircraft and contains a number of component-repair and back shops. The vast building, covering around 2.5 acres is big enough to house four full size football pitches, 2400 Minis or 450 double decker buses.
http://www.monarchaircraftengineering.c ... etails/147
Royal Jordanian 787 Dreamliner receiving attention from MAEL.
Access
The terminals are linked to Birmingham International Railway Station by a people mover taking approx 90 seconds. The station is on the West Coast Mainline with 3-4 trains per hour to London Euston and taking 10-15 minutes to Central Birmingham
There are several bus services into Birmingham, Coventry and Solihull with others serving the surrounding suburbs. There are also National Express coaches to destinations nationwide.
The airport is situated on Junction 6 of the M42 giving quick access to the M6, M1, M5 and M40. Comprehensive road improvement works are happening over the next few years.
Birmingham Airport will have a High Speed Railway Station situated on the other side of the M42 with a people mover connecting the two. The HS2 station will put BHX approx 40 minutes from Central London.